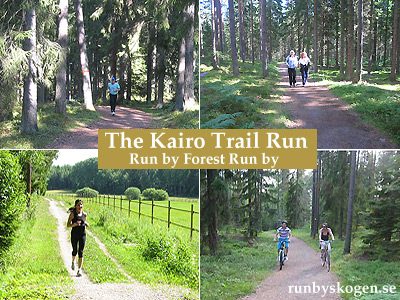 This homepage tells the story of a nice forest rich in different kinds of trails and nature experiences. The "Runbyforest"! It is just a great place for power walks, running and of course cross-country skiing in the winter. Stockholm District Championship in cross country is usually arranged here. And it has all these features just approx. 30 minutes from the city jam of Stockholm. Actually a part of the forest used to have summer ski training tracks during the 1970's. In those days, it was said, people had to get up early in the morning in the Sundays to get enough free space on the tracks in order to roll on quick enough to pick up their shape for the famous Vasaloppet. I guess the tracks were used up… Anyway, still the prepared forest running trails are much used and appreciated by all these "crazy Swedes", all generations. Obviously, got to be said, because a nice and interesting forest ecosystem is there for your senses too, with areas of natural regeneration and a high level of biodiversity and old growths. 

Well, as if that wasn't enough the forest reaches down to lake Mälaren and its pretty and relatively untouched or at least non heavily exploited shores. The lake Mälaren has a north stretching arm reaching up towards the University town Uppsala. This green-blue arm, as well as Mälaren in general, pumps in fresh air to the city of Stockholm year around. Of course a few thousands of Swedes and visitors every vinter have to breathe this frisky air and skate between Uppsala and Stockholm city, in the race "Vikingarännet" (the Viking run), with an obvious run by and tea-time at Upplands Väsby's lake shore. Its cool and beautiful Runby-forest as hinterland. Enjoy it!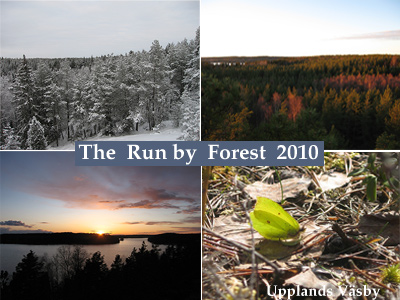 The mixed forest grows in an old archipelago terrain, once pressed down and formed during the glacial period and apparently all kinds of remnants and disclosures from the ice burden are found. For instance the ocean once flushed the tops since all the terrain is well below the highest coastline. Pines with resistance to storms and drought can be found striving on the almost bare rocks. At some places centuries old pines, wide crowned and crooked with a low annual growth and a probable circulation time of 1000 years for a single tree.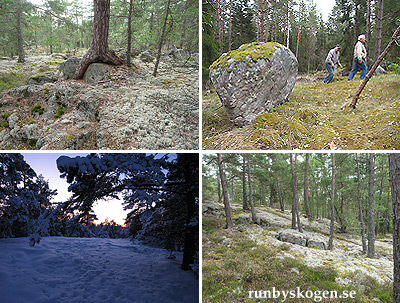 Now, in between the pine rich flat rocks some natural water ponds are held. In one of those close to the village, again back in those days, the hocky club "Wild Väsby" was founded. The name was earned when the club played one season in the highest division about the same time as the rock band Europe had at least many girls flipping out. Long curly hair. With respect, Mr. Joakim Michaeli the father to the keyboardist, Mr. Gunnar Michaeli, in Europe was one of the founders of the notion "Rädda Runbyskogen" and in the political debate during the late 1970'ies "Rädda Runbyskogen" was well established, meaning just "protect the Runby forest". It was really threatened back then and now (yr 2010) it is again. This time more heavily than ever before. Got to be said. Some politicians have grown a bit urban, ey... and typically do not "see the forest behind the economical trees"...
So, besides every now and then really tough politics to maintain a green and relaxed municipality, we do have a happy background in enjoying the nature, in different ways, out here where Stockholm hits the countryside. For instance, three forestry professors as well as Mr. Valfrid Paulson, legendary director general of the Swedish Nature Protection Agency EPA, "roamed and picked their den here" in part of town called Runby, neighbourhooding the forest.
For the love of it all this homepage should be seen as a celebration to the nature and the natural fun all these crazy people sure have. It is a story worth telling! So…
Okey, in year 2009 the politicians "clums in", hailed all the sails, became very risque eager, exploitation aggressive and got insanely off shore with the idea of establishing a huge exploitation project in one of Stockholms fairly untouched green-blue tongues that goes from the countryside to, actually the very city center! Roads and flats were "double boldly" suggested and heavily communicated in this well used forest. A non-balanced, non-sustainable and none-senses driven project from a few elite-politicians. So the NGO part of many got awake a little... But that is just quite another story… Let's remain outside of it yet a while…

Anyway, oh crap, about the NGO story. So, among other things, a new natural reserve was suggested in spring 2010. It was based on biological observations from Mr. Bo Mossberg, probably the best flora illustrator of Scandinavia living here, with more than 40 years of experiance and Mr. Mats Karström, celebrated biologist and probably Swedens most successful NGO forest protector, acting profoundly in Lapland. Since the new methods of forestry were formed in the beginning of the 1980'ies, Mr. Karström was one of the key persons changing that ships direction into something more sustainable... Just a couple of regular guys… Not. Now of course the story doesn't end... Seems like it's just started. Bad. Very bad. When do we learn that there are limits of exploitation?

Nevertheless, regarding the forest; guasch it all boils down to a fundamental principle that a good environment requires a humble and a careful human hand. The necessary methods are protection, preservation and careful development where it is suitable. Do it the right way… Not the concrete way, in 2010 and in the future. Please try to try it...

Now! Anyway! For the fun of it... Don't forget to Run by Runby, when you get to the run by at Upplands Väsby railroad station, the stop between Uppsala, Arlanda airport and Stockholm city. Runbyskogen: one of the greater Stockholm's most important nature areas! It is a treasure and it is TAX-FREE yet a while...

Run safely.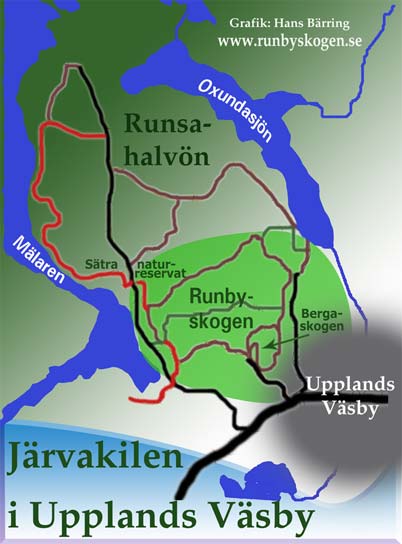 Search google to find out more about Stockholm's green wedges, the city of blue and green wedges et.c.
More nature information (maps, swedish text) also at Upplands Väsby municipality, or switchboard +46 8 590 97 000.